Our Instructors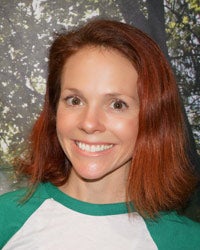 Angella
With a keen passion for sports and a Varsity athlete in softball, swimming and water polo, it goes without saying Angella loves fitness oriented events. At 21, she realized her gift for teaching when she began self contracting swimming lessons and aquatic aerobics at Edwards AFB. This endeavor eventually led to organizing a swim team while there and watching it blossom to include over 200 members. But as an avid swimmer for over 10 years it eventually took its toll on her body. She began developing extremely tight muscles and bad posture. To remedy this, she looked to another side of the fitness world for an answer. This solution came way of a fellow aquatics instructor who also was a part time personal trainer. She saw the difference and relief it gave her body and in 2002 obtained her ACE certification. After personal training in a gym for two years and still having issues with her posture and weight she began to question the routine gym method of training. In 2003, she began using a training mat for simple Pilates exercises, noticed fantastic results and since then has never looked back. Seeing first hand what a difference it could make in her own life, Pilates proved to be the long term solution for her physical ailments. Angella has been a Pilates instructor for seven years and has trained a wide variety of clientèle and has seen results specific to their goals, age, and any limitation they may have. She is extremely dedicated to both her clients and to Pilates as a whole. It is her desire never to cease absorbing all she can about this wonderful form of exercise and attends Pilates seminars and conferences all over the country when she can. From a personal stand point she understands what it's like to deal with health challenges and to rise above them. Encouraging others toward total health in body, soul and spirit for her, is the best gift she can give and receive back through positive results.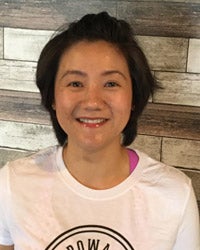 Ni
Ni Liu is a trained STOTT Pilates instructor. Ni is a former Chinese gymnast and has won World champion in Acro-Gymnastics. Transition from gymnastics career, Ni started working in fitness industry in 2000. She was a Fitness Supervisor in Gold's Gym Shanghai, leading group training classes and also serving as personnel trainer for a variety of fitness levels. Ni was also a Nike sponsored fitness instructor in China. From 2004 to 2008, she worked as a group fitness instructor for Goodlife Fitness Club in Canada. Continued her passion for gymnastics, Ni created choreography for competitive gymnastics floor routines for athletes up to the national level. Ni moved to San Diego in 2012 and developed great passion for Pilates in recent 5 years because she has benefited from Pilates for her back pain management. She also became a certified Transition Life Style (TLS) coach, enjoying helping people get well-rounded healthy lifestyle to achieve weight management and body building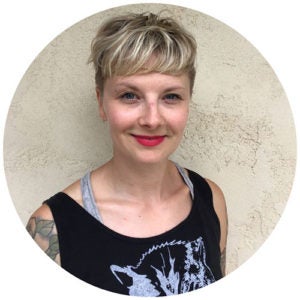 Nicole Roerick
Nicole Roerick, originally from Fargo, ND, relocated to San Diego in September 2018 after living abroad in Cairo, Egypt for 4 years where she
was teaching in International schools and studios. She is a Stott Pilates Instructor, Yoga Instructor, and a Dance Artist/Educator. She found Pilates through Dance and has found so many benefits from the balance it brings to the body. She has been teaching Yoga since 2010 and wanted to expand her knowledge of Pilates and incorporate teaching it into her life.
She loves studying anatomy and believes that movement is essential to life no matter what limitations we may face individually. She fell in love with Pilates not only for its power and strength, but for the ways it helps to heal and rehabilitate the body. She loves to combine her knowledge of Pilates, Yoga, and Dance into her teaching style and enjoys bringing her passion for movement to others.
*Trademark or registered trademark of Merrithew Corporation, used under license.
Why Join Us?
Honoring the Tradition and Art of Pilates
Free 30 minute combined initial Consultation & Instruction
Client Satisfaction with an Emphasis on Safety
Convenient Location in Historic Old Poway Village
Fully Equipped, Upscale and Peaceful Studio Environment