Intensive Reformer
Course Dates and Times:
10 Day INTENSIVE REFORMER
2022 Course Dates and Times Coming Soon

STOTT PILATES® Certification Courses
INTRO:
This course is intended for those already working in the fields of fitness or movement, as well as those who are unable to devote the time required in our Comprehensive Program due to work and/or scheduling issues. Conducted over 3 weeks or 4 weekends. Building on your industry knowledge it teaches you to design and lead the Level 1 Essential and Intermediate STOTT PILATES® Reformer repertoire for personal or group training settings for a range of clients. You will leave with a solid foundation and required skills to develop effective and motivating Pilates Reformer programs. While IR may be taken prior to IMP, we recommend completing IMP first.
WHAT YOU WILL LEARN:
The STOTT PILATES Five Basic Principles
Essential, Intermediate, Power workouts
Effective use of the reformer to enhance torso stability and strength, peripheral extremity conditioning, joint stability, flexibility, balance and coordination
Effective communication and observational skills
Verbal cueing and imagery for performance enhancement and client motivation
Theory and practice of postural analysis
139 exercises plus modifications for specific body types, postural issues and conditions
How to incorporate resistance equipment to support and intensify exercises
Exercise layering related to effective program design
Workout composition for personal and group training
REQUIREMENTS OF CERTIFICATION:
50 hours of instruction and supervised teaching
Minimum of 10 hours of observation
Minimum of 40 hours of physical review
Minimum of 25 hours of practice teaching
Total: 125 hours
Observation, Practice Teaching & Physical Review
A minimum number of hours of observation, practice teaching and physical review are required for all courses and should be completed between instructed sessions at any STOTT PILATES® facility. Additional training may be required before certification. Practice teaching and physical review hours must be logged outside of class time and submitted at the time of the practical exam.
OBSERVATION AND PRACTICE TEACHING
Observation
Includes watching sessions taught by a STOTT PILATES® Certified Instructor or relevant STOTT PILATES® videos.
Practice Teaching
Hours can be fulfilled by instructing family, fellow students, friends or clients.
Note: There are no hours required for Injuries & Special Populations or Advanced Level courses.
CEC:
Continuing Education Credits: 5.0 STOTT PILATES®; ACE; canfitpro
Instructor Trainers: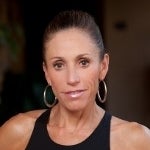 Bernie
Bernie Sidney is originally from Mexico City and earned her STOTT PILATES® certification at John Garey Pilates Studio in Long Beach, Ca. where she was employed from 2000-2010. She became an Instructor Trainer for Merrithew™ specializing in STOTT PILATES in 2002 and has had the great opportunity to travel to Mexico, Spain and South America to teach courses. Bernie is a long distance triathlete and coach and has completed seven Ironmans and many Half-Ironmans. She now lives in San Diego, Ca. where she trains most of her clients.
Why Join Us?
Honoring the Tradition and Art of Pilates
Free 30 minute combined initial Consultation & Instruction
Client Satisfaction with an Emphasis on Safety
Convenient Location in Historic Old Poway Village
Fully Equipped, Upscale and Peaceful Studio Environment