Class Descriptions
A Variety of Poway Pilates Classes
Guided by one of our expert instructors, clients receive undivided attention with a session customized entirely to their specific needs and goals. Private sessions are the best way to attain the ultimate Pilates results. Additionally, each new client receives a complimentary private session in order for the instructor to ascertain the appropriate needs of the client prior to going into class.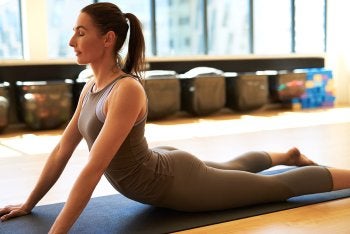 Poway Pilates services and products are as follows:
Beginners Reformer – This class is ideal for those who are new to Pilates or for members who are looking to refine and practice classical techniques at their own pace.
Beyond Pilates – This is a high energy class which fuses traditional reformer workouts with a variety of additional equipment to make your practice enjoyable and effective. Every class will be unique. This class is not recommended for beginners.
Intermediate – This class incorporates rhythmic sets of movements to improve core strength and stability. This program utilizes the reformer, springboard, chairs and other props which will aid in the development of lean and tone muscles. Anyone can take this class but taking our Beginners Reformer class prior to attending Intermediate Reformer would be beneficial.
Advanced – This is a fast moving, high energy class which uses traditional reformer workouts with a variety of additional equipment to make your practice both enjoyable and effective. This class will firm, tighten and tone your entire body. This is attended primarily by experienced members and is not recommended for beginners.
Barre/Mat Pilates – Unique combination of fitness techniques from dance and Pilates resulting in the ultimate workout that will challenge both mind and body.
Reformer/Jump – This class utilizes a jump board that attaches to the reformer. This class is not recommended for beginners.
Barre- The barre is used as a prop to balance while doing exercises that focus on isometric strength training (holding your body still while you contract a specific set of muscles) combined with high reps of small range-of-motion movement.
Kettle Bells- Combines strength training, mobility, flexibility, and cardiovascular endurance. Classes focus on joint mobility and stability, muscular strength, cardiovascular endurance, muscular flexibility, total-body range of motion, and injury prevention.
MOTR– MOTR combines the comfort of an easily portable foam roller apparatus with the challenge of three weight level resistances, giving a challenging and diverse workout tool. Exercise categories include cardio, balance, functional training, mind-body, agility, strength training and more.
Mobile Pilates with MOTR and/or Mat
In 2017, Poway Pilates will offer clients the option for an instructor to teach Pilates at the clients' home or place of work. These classes can be an individual instruction or group classes. The portable MOTR equipment will enable up to six clients to be instructed at one time.
To learn more about our classes and which one might be right for you, contact us at (858) 748-7864!
Why Join Us?
Honoring the Tradition and Art of Pilates
Free 30 minute combined initial Consultation & Instruction
Client Satisfaction with an Emphasis on Safety
Convenient Location in Historic Old Poway Village
Fully Equipped, Upscale and Peaceful Studio Environment