Studio
POWAY PILATES STUDIO
… In Old Poway Village, serving the communities of Poway, Scripps Ranch, Rancho Penasquitos, Rancho Bernardo & Ramona.​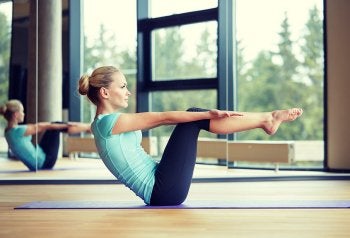 Do you want to improve your golf swing? We can make it happen. Do you want to be able to lift your grandchild without lower back pain? We have a Pilates workout that will help you achieve your goal. Are you recovering from an injury? Do you want to develop long, strong muscles, improve your posture, or increase your flexibility? Tell us your goals, and we'll help you achieve them.
Poway Pilates delivers an exceptional Pilates workout to each and every one of our clients. We offer the very best Pilates experience… the best Pilates in San Diego County.
Pilates "Working in Opposition" versus Weight Training "Isolation".
Traditional strength training seeks to isolate and work with individual muscles one at a time. It does not automatically encourage stability where it counts: In the neck, shoulder joint, lower back, hip joint and ankle joint. Weight training will not automatically protect any of these areas of the body, and may even destabilize and hurt rather than heal. Pilates by contrast seeks to work a body part, while at the same time applying strict attention to stability "at the core". This is done by verbal cueing to encourage correct stabilizer muscle action at the above mentioned areas: neck, shoulder, lower back, hip and ankle. Thus in the example that follows, the limb muscles (the destabilizers) are said to be "working in opposition" to the trunk and rotator cuff stabilizer muscles.
Conventional workouts tend to build short, bulky muscles – the type most prone to injury. A body with balanced with strength and flexibility is less likely to be injured. Poway Pilates conditions the whole body, even the ankles and feet. No muscle group is over trained or under trained. Your entire musculature is evenly balanced and conditioned, helping you enjoy daily activities and sports with greater ease.
Poway Pilates are members of the Health and Fitness Association (IDEA) and a member of the Pilates Method Alliance (PMA), a national organization dedicated to insuring the safety of the public by making sure instructors are comprehensively trained and qualified to teach Pilates. Poway Pilates instructors are certified by PMA.
Why Join Us?
Honoring the Tradition and Art of Pilates
Free 30 minute combined initial Consultation & Instruction
Client Satisfaction with an Emphasis on Safety
Convenient Location in Historic Old Poway Village
Fully Equipped, Upscale and Peaceful Studio Environment